02 May

Stonehenge Watercolor Black

Takach Paper International has Stonehenge Water Color Black in Stock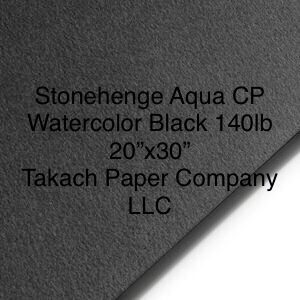 Making possibilities a reality is why Stonehenge Aqua came to be. Watercolor is all about possibilities. Because it's not just about beautiful paint. There's another factor: a wonderfully, whimsical element – water. Together, they allow for form and flow, chaos and connection, beauty and structure.
Aqua Stonehenge is as finely crafted as it is affordable. Performing way beyond its price point, it has been tested to its limits and as it turns out, it has no limits.
Wet-on-wet or wet-on-dry, it has a wonderful crispness that anchors beautiful work across every task and technique. With Stonehenge Aqua, blending is effortless, lifting is no longer a chore. It welcomes masking while never relinquishing the control you both demand and desire. Bright colors dry bright. Blocks or sheets, it's flat paper that dries flat.
Coldpress or Hotpress, Stonehenge Aqua is everything an expensive paper is without the expense. Because every artist deserves every possibility.
Features:
100% Cotton
Neutral pH
Acid Free
Chlorine Free
2 deckles, 2 cut edges (sheets)
Sized for watercolor
Superior quality
Contains no animal gelatin
Synthetic Sizing
Available in Black.
Uses:
Calligraphy
Intaglio
Letterpress
Pen & Ink
Pastel & Charcoal
Silkscreen
Watercolor