09 Jan

Red Thai Unryu Paper at Takach Paper International

Lets kicks off Thai Unryu Paper week here at Takach Paper International® , with RED THAI UNRYU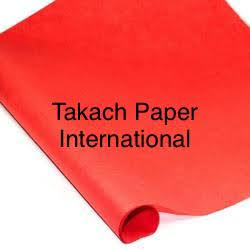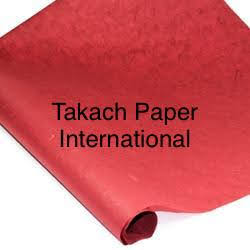 Thai Unryu Paper is a lightweight, translucent mulberry paper made from the bark of the mulberry tree where long natural fibers can be seen flowing through the sheet. This kozo paper features a Bright Red Color and is both strong and flexible, and STUNNING!
Tissue-like
Red Mulberry Papers
Unryu paper, commonly referred to as mulberry paper has characteristics of paper containing strands of fiber that are added to the sheet to create contrast and texture. Tear the paper in any shape you desire to create a soft, feathered edge. When layered, these mulberry papers are translucent allowing the background colors to mix with the unryu paper.  Some varieties include shiny metallic silver threads for a unique effect. These mulberry papers are a staple for any crafter or artist's paper collection. This paper weighs 25 gsm and is and has a neutral pH.
USES:
It's a great paper for collage, chine collé, invitations, and all kinds of decorative purposes. as the paper is quite strong despite being lightweight. The availability of rolls adds to the possibilities of what can be created with this broad range of Thai paper.
Where can you buy this magnificent paper?
Takach Paper International® … providing the World with Beautiful Paper. www.takachpaper.com

Visit our site to see what this extraordinary paper looks like backlit!
https://www.takachpaper.com/decorative-paper/
See the assortment of colors..imagine the possibilities
https://www.takachpaper.com/product-category/thai-paper/
VALENTINES DAY COMING UP….order now and delight the Holiday with backlit red, wrapping, back drops and more…