06 Jan

Takach Paper International – How to pick the right paper for your needs, some ideas..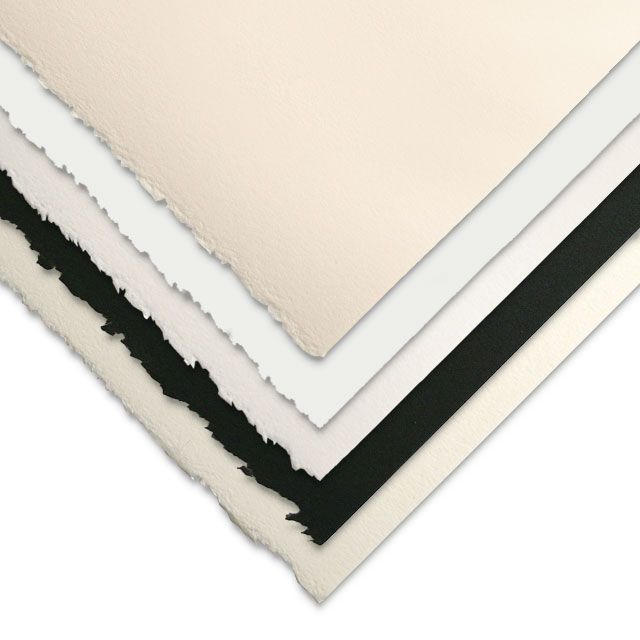 How to choose the right paper for your needs – Takach Paper International
Many different types of Papers are used in Printmaking. Here at Takach Paper International we carry a large variety to meet our customers needs.
A common form of printmaking is etching. In this project you may want to consider 100 per cent cotton rag. This type of paper uses various sources of alpha cellulose to be used.
Another paper printmakers use is " mould-made" paper for Etching. The weight of such papers is measured in grams per square metre (gsm) per sheet, and it tends to be papers weighing between 250gsm and 300gsm that are most suitable for etchings. However, depending on your experience as an artist and the nature of your project, you could conceivably opt for lighter or heavier papers than these.
You can identify hand-made papers on account of all four of their edges being rough and 'deckled', whereas mould-made papers usually have two opposing deckle edges, with the other two edges being cut or torn.
What are the key elements of getting your paper ready to print?
When you are printing an etching or other intaglio plate, the most important thing to remember is to first dampen the paper so that it is sufficiently receptive to the ink.
One can not just print onto dry paper. First of all, dry paper won't pick up all of the ink, so you'll end up with a poor-quality or little discernible image on the paper. Secondly, dry paper's lack of pliability means that when it is stretched due to being put through the press, it will fold into unsightly creases. That's hardly an effect you will want if you intend to display your finished prints.
In order to prepare paper for it must be handled correctly given that damp paper's greater receptiveness to ink means it will also pick up any other kind of dirt very easily. The last thing you will be happy with, after all, is a finished print that looks immaculate…
Here at Takach Paper International we are happy to answer your questions on Printmaking Paper and what may be best for your needs. We welcome your calls and questions. Visit the website and see our variety. See our images at https://www.takachpaper.com/images/ and decorative images at https://www.takachpaper.com/decorative-paper/
Delight your senses and creativity with the colors of Thai Unryu paper and its endless uses.
Shop at our store at https://www.takachpaper.com/product-category/paper-collection/   Stay informed of the latest papers coming out.
We welcome you at Takach Paper International and strive to provide the best prices so that you can make your best art!
Cómo elegir el papel adecuado para sus necesidades – Takach Paper International
www.takachpaper.com/product-category/paper-collection/
En el grabado se utilizan muchos tipos diferente de papeles
Mantengase informado de los ultimos articulos que se publicaran. Le damos la beinvenida a Takach Paper International y nos esforzamos por ofrecer los mejores precios para que pueda hacer su mejor arte!