29 Apr

Thai Kozo Banana Paper at Takach Paper International

Takach Paper International has Thai Kozo Banana Paper!

Machinemade in Thailand using kozo fibers for the base sheet and featuring banana leaf fibers for inclusions.
Used for decorative purposes, book arts, collages, lampshades, and more.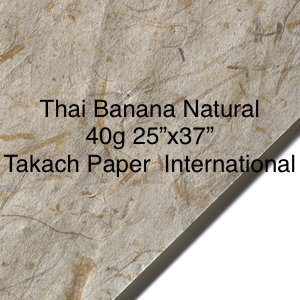 This is another wonderful Eco-Friendly paper. Thai Banana is made from 100% kozo with large pieces of banana bark as added inclusions.
Kozo Paper is the inner bark of mulberry tree, which is harvested without harming the tree. The banana tree inclusions are taken from the tree after the banana harvest is completed, and would normally be discarded without any another use.
The inclusions of the banana bark and random so each sheet will differ. The paper is lightweight and available in a palette of 10 colors. The feel of the sheet is crisp and durable.
There are endless creative possibilities with Thai Banana; such as collage, stationery, packaging, scrapbooking and decorative projects. Available in Jumbo rolls in natural and blue-green.
FEATURES
Made in Thailand
100% Kozo
Banana bark inclusions
Crisp & lightweight
2 natural deckles (sheets)
Specialty Paper
USES
Collage
Decorative
Lampshades
Layering
Scrapbooking
Stationery
Order this magnificent Paper today! Its unique, its fabulous! Sent right to your door, the Takach Paper International Way!