10 Jan

Thai Unryu Pale Blue/ Takach Paper International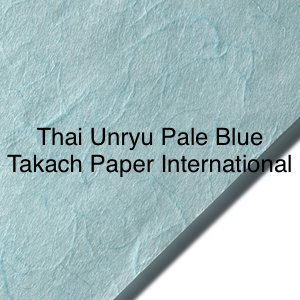 As Thai Unryu week at Takach Paper International continues…today we explore the soft beauty of the Thai Unryu Pale Blue. Breathtaking
Light Blue

is one of the Mulberry Papers
Unryu paper, commonly referred to as mulberry paper has characteristics of paper containing strands of fiber that are added to the sheet to create contrast and texture. Tear the paper in any shape you desire to create a soft, feathered edge. When layered, these mulberry papers are translucent allowing the background colors to mix with the unryu paper.  Some varieties include shiny metallic silver threads for a unique effect. These mulberry papers are a staple for any crafter or artist's paper collection. This paper weighs 25 gsm and has a neutral pH.
Machine made in Thailand
Weight-25 GSM
Neutral pH
Available in three sizes: 8.5″ x 11″, 12″ x 12″ and 25″ x 37″
Fiber content- kozo
This breathtaking color can decorate a wall, be used as background for art, or wrap a gift. In the dark of winter it brings cheer and light into the home.
Order it and smile.
https://www.takachpaper.com/product-category/thai-paper/
See it backlit at https://www.takachpaper.com/decorative-paper/
Take a trip to the beach, with a pale blue dazzling paper. Put it over a lamp to illuminate the room pale blue, and then take it down and re-use it
Simply get online and contact Takach Paper International
Your beautiful blue Thai paper and endless possibilities awaits!
We ship promptly, in excellent condition, and at the best prices….see you in BLUE!!!!!!!